The Democrat Party in the Senate is continuing to do all it can to delay the appointments to President Donald Trump's new administration in Washington. Their obstruction is one for the record books.
President Trump tweeted his frustration with the obstructionist Democrats in the Senate way back on February 8th –
It is a disgrace that my full Cabinet is still not in place, the longest such delay in the history of our country. Obstruction by Democrats!"
It is a disgrace that my full Cabinet is still not in place, the longest such delay in the history of our country. Obstruction by Democrats!

— Donald J. Trump (@realDonaldTrump) February 8, 2017
On February 20th the Washington Free Beacon reported the delays the Trump Administration was having in obtaining cabinet appointments. The delays are a direct result of Democrat obstruction as confirmed by New York Senator Schumer:
We're using everything we can to stop these awful nominees," Senate Minority Leader Chuck Schumer (D., N.Y.) said at a press conference earlier this month.
Per the Beacon, as of the 20th of February, the Trump Administration when compared to the Obama Administration in 2009 looked like the following: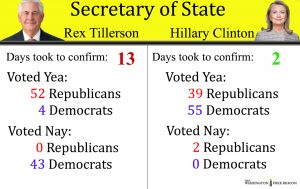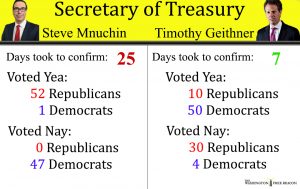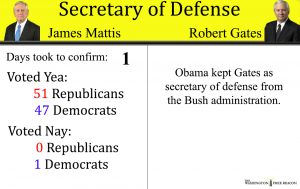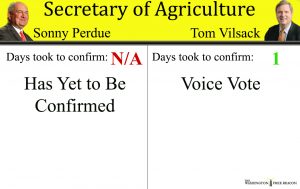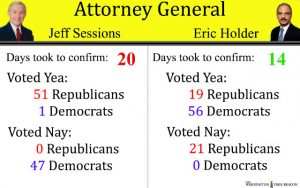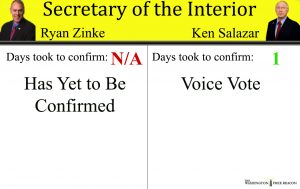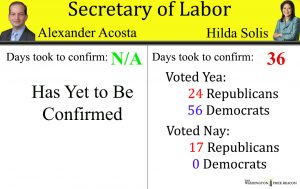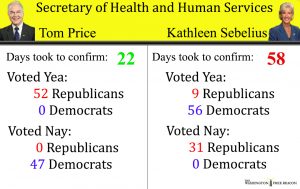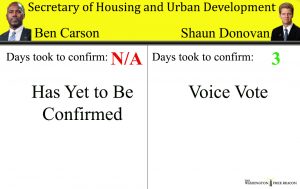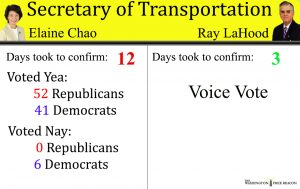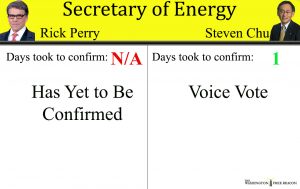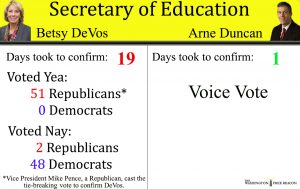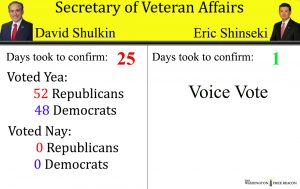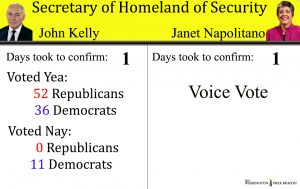 Since the 20th a couple more of President Trump's picks have been confirmed through the Senate. Billionaire investor Wilbur Ross was finally confirmed as President Trump's Secretary of Commerce on Monday, February 27th. Secretary of Interior Ryan Zinke was finally confirmed on Tuesday, February 28th and Secretary of Energy, former Texas Governor Rick Perry, was finally confirmed on Wednesday, March 1st. The President's new HUD Secretary, Dr. Ben Carson was finally confirmed on Thursday, March 2nd.
Two of President Trump's cabinet positions have yet to be confirmed, former Georgia Governor Sonny Perdue as Secretary of Agriculture, and Alexander Acosta as the new Secretary of Labor. Assuming these two picks were approved on Monday March 6th at the earliest, which is not going to happen, these two would have taken 45 days to step into their respective cabinet positions. This would mean that it has taken on average 26 days per appointee for President Trump's cabinet to be confirmed to Obama's average in 2009 of 10 days per pick.
It has now taken more than 2.6 times the number of days to get President Trump's cabinet filled compared to Obama in 2009.
A total of more than 386 days, or more than a year combined, have occurred before President Trump's picks were confirmed to less than a half a year of combined time (157 days) for President Obama in 2009.
Hopefully voters in the 2018 elections will remember this and vote out the Democrats in Congress who have chosen to play politics with the President's appointments rather than perform their duty to all Americans to approve these exceptional appointees.