The corrupt judge in the Colorado case to remove President Trump from the 2024 Presidential Ballot despite evidence to the contrary, says she doesn't have to recuse herself. 
President Trump shared moments ago in an email:
The trial to REMOVE my name from the ballot in the battleground state of Colorado is officially underway.

This is nothing more than the next desperate attempt by Crooked Joe and the Radical Democrats to slow down our campaign after our latest SURGE in the polls (we're beating Biden by 10 points!) and right before tomorrow night's critical end-of-month deadline.
This trial was discussed on the War Room this morning with attorney Mike Davis.  The liberal judge refused to recuse herself despite blatant anti-Trump conflicts of interest.
This judge believes that she has the right to remove President Trump from the ballot in Colorado despite her opinion going against the US Constitution.
Attorney Mike Davis points this out.
New Denver District Judge Sarah Wallace, a Democrat Donor, Commits Reversible Error By Refusing to Recuse from Trump January 6th Case After Donating to Anti-Trump January 6th PAC 1. On August 18, 2022, Democrat Governor Jared Polis appointed Democrat donor Sarah Wallace as a Denver District Judge, starting on January 10, 2023.
2. On October 15, 2022, Judge-designee Sarah Wallace donated to the Colorado Turnout Project, a political action committee formed to vote out Republicans who supported Trump on January 6, 2021.
fec.gov/data/receipts/
coloradoturnout.org/our-story/
3. This week, Judge Wallace is holding a highly unusual (and unconstitutional) trial to determine whether to disqualify Trump from the ballot based upon his activities on January 6th.
4. Judge Wallace previously rejected all of Trump's legal arguments, including the only way to disqualify for insurrection under the Section 3 of the 14th Amendment is to win a federal criminal conviction under the federal insurrection criminal statute Congress passed to execute Section 3.
x.com/mrddmia/status
5. Today, Judge Wallace admitting to making the anti-Trump January 6th PAC donation. She said she didn't remember making it. But despite her donation, she claims she can be fair. But her subjective belief in her ability to be fair is not the correct legal standard. The standard is an objective one: Will the public reasonably believe she can give Trump a fair January 6th-related bench trial after she donated to an anti-Trump January 6th PAC ?
The answer is clearly not. This is the reversible error. But will the Democrat-controlled Colorado appellate courts correct this?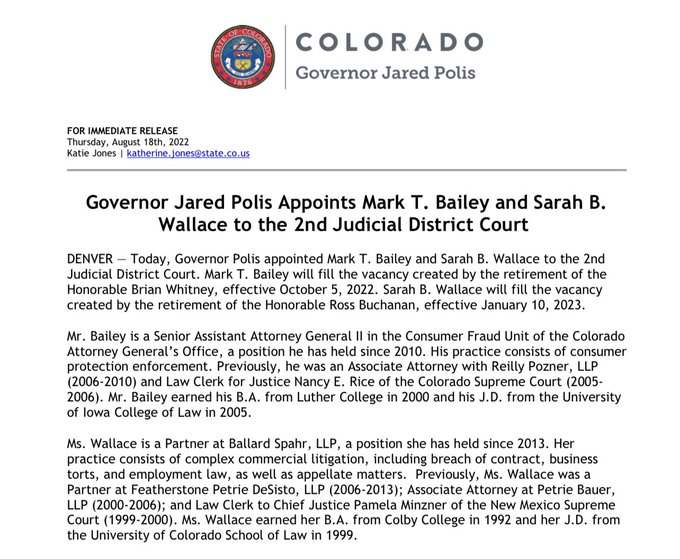 🚨

New Denver District Judge Sarah Wallace, a Democrat Donor, Commits Reversible Error By Refusing to Recuse from Trump January 6th Case After Donating to Anti-Trump January 6th PAC

1. On August 18, 2022, Democrat Governor Jared Polis appointed Democrat donor Sarah Wallace as… pic.twitter.com/6n6UVffsaX

— 🇺🇸 Mike Davis 🇺🇸 (@mrddmia) October 30, 2023
Watch the interview with attorney Mike Davis below: